BISCOTTI - LOOKING FOR AN EXPERIENCED HOME! - POODLE (STANDARD) / AUSTRALIAN SHEPHERD / MIXED (LONG COAT) DOG FOR ADOPTION
Pacolet, SC, USA
Email Owner
Quick navigation
BISCOTTI - LOOKING FOR AN EXPERIENCED HOME! - POODLE (STANDARD) / AUSTRALIAN SHEPHERD / MIXED (LONG COAT) DOG FOR ADOPTION
Aussiedoodle Dogs For Adoption in Pacolet, SC, USA
For Adoption
Nickname:

Biscotti - Looking For An Experienced Home!

Breed

Gender

Male

Age

Young

Location

Pacolet, SC, 29379 USAUSA
Description
Posted Breed: Poodle (Standard) / Australian Shepherd / Mixed (long coat). Adoption Fee: $499. Thank you for your interest in dog who needs a new home. Adoption can be one of the most fulfilling experiences in your life and especially in the life of your new canine companion. A note to those looking at CPR. We have no perfect dogs - but many of our dogs have proven to be perfect for a certain someone. Our job is to find those someone's. Our most successful adopters come to CPR not because they want a dog. They come to us because they want to give a dog a home. We urge all of our potential adopters not to fall in love with a picture. While we like to know what you like in looks, a dog is more than a pretty face. Our goal is to match you with the best possible pet for you and your home. We want to create furever families. Our descriptions contain all that we know about this dog today. We'll update as more information is known. Are you looking to adopt within the next 30 days? If so please visit our webpage at .carolinapoodlerescue and complete the application. You'll find it in the menu on the left hand side. You'll also find a total listing of all our dogs available. Just browsing but interested in poodles and poodle mixes? Please drop a note to applicationscarolinapoodlerescue with your name, address and phone # and email. We'll add you to our mailing list. thanks the CPR Adoption team Date into Rescue: 6/27/2021 Reason for being in rescue: Lovingly surrendered by owners Foster location: Dreamweaver Farms, Pacolet SC Special Needs? Biscoti is neutered, up to date on vaccines and heartworm negative. Biscoti arrived in rescue on 2 daily meds - Sertraline 25mg, an anti-depressive, and clonidine 0.3mg, an anti-anxiety medicine. However, since 7/2021 we have weaned him off these medications and are replacing them with exercise and play both with humans and other dogs. Weight: 75 lbs Height: 24 in Spayed/Neutered: Yes Adoption Fee: $499 Fence needed? Yes What kind of home would be best for me? Biscotti wants a new life, one that will show him the good side of training. This active boy is looking for an active family that is looking for an active dog. He would do best in a home that is adult centered. If there are children, they need to be young adults over 16 years old. He needs owners that have an active lifestyle where they want to include their dog. Biscotti absolutely needs a fenced yard…he started his life with a yard to roam and wants that back so he can stretch his long legs. Biscotti is indifferent to cats. Biscotti requires an experienced owner that does not crate. He is reactive to barriers, crates being one of these. He needs another large dog in the home for positive play and reinforcement. Biscotti is a big dog with a deep bark that can be intimidating. Underneath is a loving boy that is looking for someone to understand and love him. What is my personality like? Biscotti was lovingly surrendered by his owner when life changes no longer allowed time for the exercise he needs. Over the past year, Biscotti's life has been turned completely upside down. He had a Mom and Dad and another Aussiedoodle brother that was his best buddy. Unfortunately, Mom and Dad decide to go their separate ways each taking one of the dogs with them. Biscotti went from living in a big house with a yard to run with his best friend to a small apartment where the only exercise this active boy got was walks and occasional trips to the dog park. Biscotti is an Aussiedoodle. The Aussie Shepherd part of him needs a job to do. Both lines of his breed need an active lifestyle. Biscotti was very attached to his previous owner and this latest disruption in his life has taken a toll on his trust of humans. The disruptions in his life and lack of exercise caused some behavior issues and Biscotti's owner sent him to doggy boot camp…not once, but twice. The boot camp was one where they use a variety of training techniques, including negative. Small wonder that he is a little uncertain who he can trust, but he is a very smart dog. He is quickly learning at the farm that people can mean good things. Biscotti is a wonderful dog that has so much potential. He can be barrier reactive which means where we normally would suggest a crate, Biscotti would do better without. In his earlier time here at the farm Biscotti was very nervous and afraid. He would react out of fear to situations and if pushed to far we believe he would bite (though he never did). Don't let that persuade you away from this wonderful dog though. After Biscotti has learned to trust and love people around him he opens up into this wonderful loving soul who would give the world for his humans. He enjoys playing fetch with his humans and will play all day if allowed! He gets along with other dogs very well and we would definitely recommend another dog in the home with him. He needs someone who understands that he needs time to build trust when first going home Biscotti is showing some reactivity to being touched around his neck and is a bit head shy from the shock collar. This will change as those negative tools are no longer a part of his life. He was very happy when the caregiver doing his intake removed those things and threw them away. Biscotti loves fetch. It keeps his attention FOREVER. A simple game of fetch is all it take to get him to exercise. He literally plays until he's too tired. Biscotti looks to people for guidance and reassurance. Loud noises scare him, but he immediately runs to his person. How do I act when I first meet new people? Friendly Other tips and tidbits: Biscotti's birthday is 4/14/2017 House trained? Dogs can be house trained if they are in the right environment and are allowed to follow a schedule as long as a physical reason doesn't keep them from being trained. A dog house trained in my home may not be in yours. We will help you teach your new dog this necessary skill and based on your schedule. Please note - we do not ship dogs. If you are interested in adopting, please take a look at the distance between the foster home location and your location and make sure you are willing to make that trip. Most of our dogs are at our farm in Pacolet, South Carolina. To apply, please visit our webpage at .carolinapoodlerescue and visit the tab on the left that directions you to the online application. Please note that when screening applications, we look at the entire home and then make suggestions based on what would be a good fit for your home. You are not being screened for a specific dog although we are looking to see what type of dog interests you - poodles or non poodles, color, age, etc. Others here may be a better fit for you. It is very difficult to get to know a living animal from a picture and a short description. Since we are constantly getting in new dogs, this may be a dog not in our listings yet. We want you to be very happy with your new companion and will make suggestions based on what you tell us about you. Thank you for considering CPR.
Aussiedoodle Dogs For Adoption in Pacolet, SC, USA
Physical Attributes

| | |
| --- | --- |
| Eye Color: | Brown |
| Ear Type: | Natural/Uncropped |
| Coat Length: | Long |
| Grooming Needs: | High |
| Likes to Vocalize: | Some |

Behavioral Characteristics

OK with Dogs:
Yes
Energy Level:
Moderate
Activity Level:
Moderately Active
Exercise Needs:
Moderate
Fence Required:
6 foot
Obedience Training:
Has Basic Training
Owner Experience Required:
Species
Other:

Yard Required
Leash Trained
Crate Trained
Housetrained
Protective/Territorial
Good in a Car

Personality

Personality Characteristics

Playful
Affectionate
Intelligent

Additional Information
Organization name

Carolina Poodle Rescue

Location:

Pacolet, South Carolina, 29372 USAUSA
Breed overview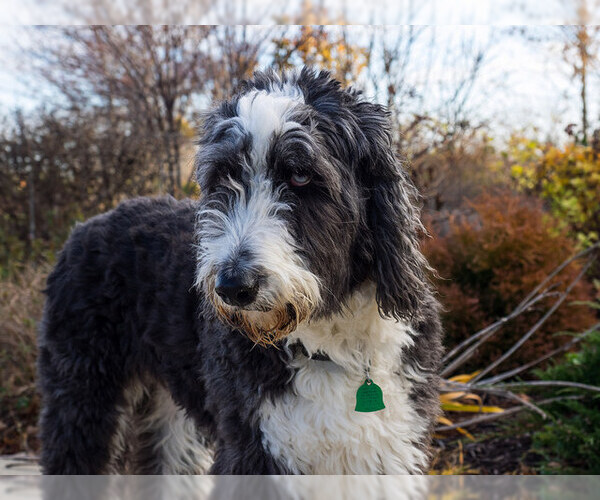 Overview:
The Aussiedoodle is a cross between an Australian Shepherd and a Poodle, usually a Standard or Miniature Poodle. Both of the breeds used to create Aussiedoodles are considered to be canine Einsteins, making this one super smart cross-breed.
See more...
Adoption Tips
Puppyfinder.com strongly recommends reading these adoption tips before adopting a puppy.
Read it...