Bernedoodle Verified Dog Breeders near Kissimmee, Florida, USA, Page 1 (10 per page)
Bernedoodle Dog Breeder near KISSIMMEE, FL, USA. SUBS-209553. Goldendoodles By Aggie
Member since: 07/16/2020
Goldendoodles By Aggie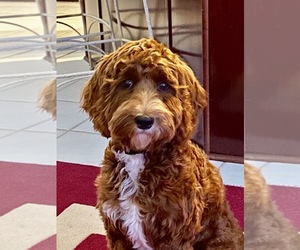 We are a quiality breeders of Goldendoodles and Bernedoodles, making friends for ever since 2009
Breeds: Bernedoodle (+1)
Distance: Aprox. 0.6 mi from Kissimmee
Bernedoodle Dog Breeder near KISSIMMEE, FL, USA. SUBS-210111. The Mejias Puppy Love
Member since: 03/08/2020
The Mejias Puppy Love
Breeds: Bernedoodle (+4)
Distance: Aprox. 0.6 mi from Kissimmee
Description:
We are a family breeder, we love are puppies, its our passion, our goal is to find our puppies a caring, loving home! We been in business two years now, we have a facebook page,...
View more...
Bernedoodle Dog Breeder near THE VILLAGES, FL, USA. SUBS-216292. Delaney Park Doodles
Member since: 09/11/2020
Delaney Park Doodles
Breeds: Bernedoodle (+1)
Distance: Aprox. 54.9 mi from Kissimmee
Description:
Our puppies, through genetic testing and excellent breeding stock, are bred to have the best traits; health, great temperament, beautiful non-shedding curly coats, and advanced...
View more...