Pookimo
A.K.A. :Eskapoo, Eskipoo
| | |
| --- | --- |
| Overview: | The Pookimoo is an average size mixed breed. Both breeds are fairly good tempered, so the dogs are generally good natured pets. The poodle blood may result in a less active dog. |
| Breed Group: | Toy |
| Weight (lbs): | 25-30 |
| Height (in): | 14-19 |
| Colors: | mostly white, but could be black or brown |
| Coat: | The coat can be curly like the poodle or longer and thick like the Eskimo. |
| Character: | Pookimoos are intelligent, loyal and active. |
| Temperament: | The Pookimoo can have the temperament of either breed. They are generally good with children and other dogs. |
| Care: | The coat needs to be brushed daily and bathed as needed. |
| Training: | The Pookimoo needs consistent, gentle training. |
| Activity: | This breed needs regular exercise in the yard or on a leash. |
| Country of Origin: | USA |
| Life Expectancy: | 10-12 |
Pookimo Puppy for Sale near MEMPHIS, MO, USA. ADN-444345. Cute Cuddly
$650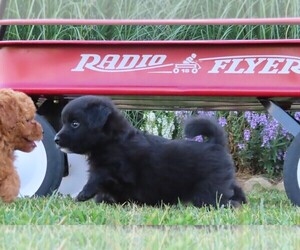 Hello! Meet Oliver! Isn't he just adorable? He loves to explore and play in the great out doors. He has a smooth, black coat, with a cute white spot on his chin. Oliver is an...
Oliver
Pookimo
Pookimo Puppy for Sale near MEMPHIS, MO, USA. ADN-440842. Eskipoo
$1,000*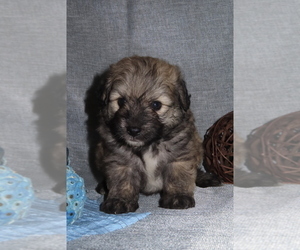 Hello! This is Quest! Isn't he just adorable? He is very cuddly and my favorite of the litter. Check out his beatuifull sable coat, which is a mix of black,red and white, lighter...
Quest
Pookimo
Similar Dog Breeds for Pookimo
Quick Breed Selector
0 - not important, 1 - smallest, 10 - largest