Dalmatian Puppies for Sale near North Salt Lake, Utah, USA, Page 1 (10 per page)
Dalmatian Puppy for Sale near Utah, NORTH SALT LAKE, USA. ADN-543524. HEALTHY AKC Dalmatian Puppies FALL 2023
HEALTHY AKC Dalmatian Puppies FALL 2023
Date listed: 01/26/2023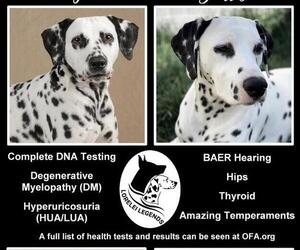 Litter of 6
Breed:

Price:

$2,500

Nickname:

Litter of 6

Gender:

Male(s) and Female(s)

Age:

On the way

Location:

Distance:

Aprox. 0.7 mi from North Salt Lake
Our puppies are bred specifically for a sweet temperament and amazing health... the beauty is just a bonus!!!! PLEASE NOTE THAT THIS LITTER IS BEING PLANNED FOR THE FALL OF 2023....
Dalmatian Puppy for Sale near Alaska, JUNEAU, USA. ADN-537911. Dalmatians
Dalmatians
Date listed: 01/17/2023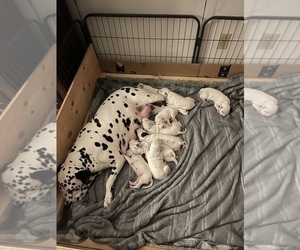 Dalmatians
Breed:

Price:

$850

Nickname:

Dalmatians

Gender:

Female

Age:

12 Weeks Old

Location:

USA JUNEAU, AK, USA
CKC registered pure bred Dalmatian puppies. Green and black collars are males . Orange, yellow, bright pink, beige , and light purple are females.
Similar Dog Breeds for Dalmatian
Browse thru Dalmatian Puppies for Sale near North Salt Lake, Utah, USA area listings on PuppyFinder.com to find your perfect puppy. If you are unable to find your Dalmatian puppy in our Puppy for Sale or Dog for Sale sections, please consider looking thru thousands of Dalmatian Dogs for Adoption. Also, be sure to check the Dalmatian Dog Breeder listings in our Dog Breeder Directory, which feature upcoming dog litter announcements and current puppies for sale for that dog breeder. And don't forget the PuppySpin tool, which is another fun and fast way to search for Dalmatian Puppies for Sale near North Salt Lake, Utah, USA area and Dalmatian Dogs for Adoption near North Salt Lake, Utah, USA area. - also known as: Carriage Dog, Spotted Coach, Dog Firehouse, Dog Plum, Pudding Dog