| | |
| --- | --- |
| Overview: | The Alaskan Husky has been used for sled dogs for hundreds of years, first by the native people in Alaska and later for dog races. The breed can be challenging as a pet. |
| Breed Group: | Working |
| Weight (lbs): | 44-66 |
| Height (in): | 23-26 |
| Colors: | Black and white, gray and white, shades of red and white. |
| Coat: | The coat is thick and double, of medium length with a dense undercoat. |
| Character: | The Alaskan Husky is strong, determined and loyal to its master. |
| Temperament: | The Alaskan Husky will get along with children and other dogs, if raised together. They are pack animals. |
| Care: | These dogs need to be brushed regularly and bathed only as needed. |
| Training: | The Alaskan Husky can be difficult to train and require obedience training. |
| Activity: | This breed needs a lot of exercise on a daily basis. |
| Country of Origin: | USA |
| Life Expectancy: | 12-15 |
Alaskan Husky Puppy for Sale near RICHMOND, VA, USA. ADN-255272. Female 14 weeks
$2,000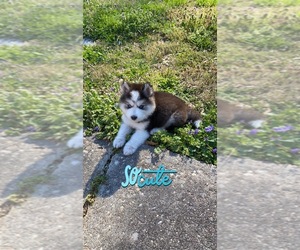 Beautiful black and white husky with blue eyes. Very energetic and loves to play with kids or her toys. She comes with a large dog cage with a mat, puppy pads, any dog food &...
Shuri
Alaskan Husky
Alaskan Husky Puppy for Sale near AUSTIN, TX, USA. ADN-253787. 6 months old husky puppy
$700*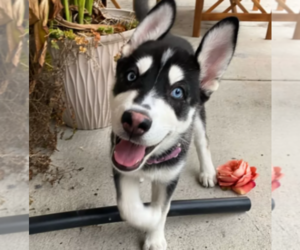 Ella is a sweet girl. She is amazing with my 4 year old son. Well-behaved, potty trained, up to date with her shots, but she isn't fixed yet. I have to move in with my boyfriend...
ella
Alaskan Husky
Similar Dog Breeds for Alaskan Husky
Quick Breed Selector
0 - not important, 1 - smallest, 10 - largest