Chinese Shar-Pei
A.K.A. :Shar-Pei, Shar Pei
| | |
| --- | --- |
| Overview: | The Chinese Shar-Pei is a loving, yet independent breed. He requires early obedience training and should probably have a patient owner who doesn't mind a serious dog who has a mind of his own. |
| Breed Group: | Non-Sporting |
| Weight (lbs): | 45-60 |
| Height (in): | 18-20 |
| Colors: | Any solid color, including sable. |
| Coat: | There are two varieties. Both have very hard coats. The horse coat variety's coat is short and bristly. The brush coat variety has longer hair. The brush coat is considered inferior to the horse coat variety. Both coat's types should be straight and |
| Character: | Chinese Shar-Peis are brave, loyal, and dominant. This breed is often less than obedient, so need special training. |
| Temperament: | This breed bonds easily with its family, but is also friendly toward strangers. They are good with children and get along with other household pets, as long as proper socialization has taken place at a young age. They may fight with other dogs. |
| Care: | The Chinese Shar-Pei must have its coat groomed occasionally with a soft brush. The skin folds must be checked and cleaned thoroughly on a regular basis. |
| Training: | This breed requires consistent training from a firm handler. |
| Activity: | Chinese Shar-Peis need a large amount of outdoor exercise. |
| Country of Origin: | China |
| Health Issue: | This breed may have kidney problems and some hereditary skin problems. |
| Life Expectancy: | up to 10 |
Chinese Shar-Pei Litter of Puppies for Sale near ORLANDO, FL, USA. ADN-577654. Jts Chinese sharpeis
$1,250*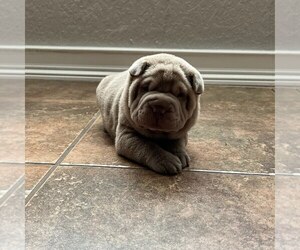 Multiple Sharpeis still available, healthy has all of his shots, and ready to gow home! Call me at 443-500-9932!
Litter of 3
Chinese Shar-Pei
Chinese Shar-Pei Puppy for Sale near APPLE VALLEY, CA, USA. ADN-576707. Sweet Pei
$1,250*
Two males and one female. Apricot tweener has a soft brush coat. Black mini male, rough brush coat. Is food motivated. Female mini sable, energetic, loves to walk between your...
Litter of 3
Chinese Shar-Pei
Chinese Shar-Pei Litter of Puppies for Sale near KENNEWICK, WA, USA. ADN-533588. Gorgeous Shar Pei Puppies
Gorgeous Shar Pei Puppies
$1,500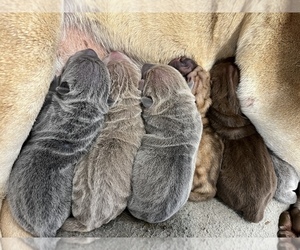 Multi-colored litter with 2 girls and 4 boys
Litter of 6
Chinese Shar-Pei
Similar Dog Breeds for Chinese Shar-Pei
Breed Mixes of Chinese Shar-Pei
Quick Breed Selector
0 - not important, 1 - smallest, 10 - largest