| | |
| --- | --- |
| Overview: | The Bordeaux Dog has been used for big game hunting and cattle driving since the 1100s. This breed is good for protection and as a pet for the right owner. |
| Breed Group: | Mastiff |
| Weight (lbs): | male-at least 110 female-at least 99 |
| Height (in): | 22.5-26.5 |
| Colors: | Any shade of fawn, can or can not have black or brown mask. |
| Coat: | The coat is short and soft |
| Character: | Bordeaux dogs is strong, intelligent and loyal. |
| Temperament: | Bordeaux dogs get along with children and other pets, when raised together. They don't get along with other dominant breeds. |
| Care: | The Bordeaux dog needs only an occasional bath and brushing. |
| Training: | Bordeaux dogs need consistent, gentle, respectful training. They are best owned by people with experience with dominant dog breeds. |
| Activity: | Bordeaux dogs need to be walked a few times each day. |
| Country of Origin: | France |
| Health Issue: | hip dysplasia |
| Life Expectancy: | 9-14 |
Dogue de Bordeaux Puppy for Sale near CLEARWATER, FL, USA. ADN-251450. Dogue De Bordeaux AKC Puppies
Dogue De Bordeaux AKC Puppies
$2,000
Parents are exemplary pets. Both extremely large, well-mannered, and devotedly loyal. Pictures and videos of the parents are available upon request. Price is per puppy.
Litter of 2
Dogue de Bordeaux
Dogue de Bordeaux Puppy for Sale near LA SIERRA, CA, USA. ADN-240905. AKC Dogue De Bordeaux Puppies
AKC Dogue De Bordeaux Puppies
$2,500*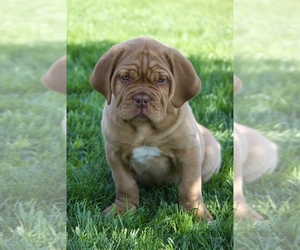 Big, beautiful, bulky, healthy Dogue pups. Well socialized with dogs and children. First shots, dewormed and vet checked. Will make excellent guard dog amd family pet. Loyal,...
Litter of 8
Dogue de Bordeaux
Similar Dog Breeds for Dogue de Bordeaux
Breed Mixes of Dogue de Bordeaux
Quick Breed Selector
0 - not important, 1 - smallest, 10 - largest