| | |
| --- | --- |
| Overview: | A strong, active, little working Terrier of great character with flexible body of medium length. His smart movement matches his keen expression. Tail docking is optional and the coat may be smooth, rough or broken. |
| Breed Group: | Terrier |
| Weight (lbs): | 14-18 |
| Height (in): | 10-12 |
| Colors: | White should predominate (i.e., must be more than 51% white) with tan, black, or brown markings. Brindle markings are unacceptable. |
| Coat: | Smooth, without being so sparse as not to provide a certain amount of protection from the elements and undergrowth. Rough or broken coated, without being woolly. |
| Character: | The terrier must present a lively, active and alert appearance. It should impress with its fearless and happy disposition. It should be remembered that the Jack Russell is a working terrier and should retain these instincts. Nervousness, cowardice or over-aggressiveness should be discouraged and it should always appear confident. |
| Temperament: | The Jack Russell Terrier is a perky, merry, devoted, and loving dog. Spirited and obedient, yet absolutely fearless. Careful and amusing, he enjoys games and playing with toys. Friendly and generally kind to children who have been taught not to tease or strike the dog. They are intelligent, yet willful and determined. They can be slightly difficult to train and need a firm, experienced trainer. The Jack Russell can be aggressive with other dogs if not well trained and socialized. |
| Care: | All coat types are easy to groom. Comb and brush regularly with a firm bristle brush, and bathe only when necessary. To show, owners must strip the coat. Like the rough coat, the broken coated Jack needs to be stripped out also. |
| Activity: | The Jack Russell terrier is very adaptable and will exercise itself in a small yard, but it will be in its glory with space to run, hunt and play. |
| Country of Origin: | United Kingdom |
| Health Issue: | Some are prone to dislocation of the kneecaps, inherited eye diseases, deafness, Legg Perthes-a disease of the hip joints of small breeds of dogs. |
| Life Expectancy: | About 15 or more years. |
Jack Russell Terrier Puppy for Sale near FORT PIERCE, FL, USA. ADN-255737. Jack russell
$800*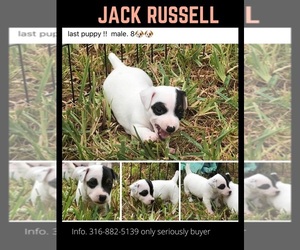 last male purebred jack Russell , ready by mid-May, first vaccination, dewormed and health certificate, please read about the breed, they are NOT SMALL DEPARTMENT DOGS , very...
Joe
Jack Russell Terrier
Jack Russell Terrier Puppy for Sale near SANDOWN, NH, USA. ADN-253266. Irish Jack Russell Puppy
$2,500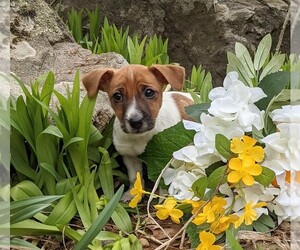 Adorable family raised Irish Jack Russell puppy. Up to date on all vaccines and de wormings, crate trained and well started on housebreaking. These dogs make wonderful family...
Lucy
Jack Russell Terrier
Similar Dog Breeds for Jack Russell Terrier
Breed Mixes of Jack Russell Terrier
Quick Breed Selector
0 - not important, 1 - smallest, 10 - largest