Mutt
A.K.A. :A mongrel, mixed-breed dog
A mixed-breed dog, also called a mutt, mongrel, tyke, cur, bitzer, feist or random-bred dog, is a dog that has characteristics of two or more types of breeds, or is a descendant of feral or pariah dog populations.
This term, along with the term purebred dog stems from a fundamental misunderstanding of the genetics and misinterpretation of Darwinian Theory, and should be viewed with the same skepticism as we view the concept of pure races in human populations. The term crossbreed refers to puppies produced by the breeding technique of breeding known dogs of two different purebred dog breeds for some specific reason.
The term mutt generally refers to a dog of unknown descent. Dogs interbreed freely, except where extreme variations in size exist, so mixed-breed dogs vary in size, shape, and color, making them hard to classify physically.
| | |
| --- | --- |
| Overview: | A mongrel, mutt, or mixed-breed dog, is a dog that is not the result of breeding within an existing breed or to modify or create a breed and belongs to no breed. In the United States, the term "mixed-breed" is a favored synonym over "mongrel" among many who wish to avoid negative connotations associated with the latter term. The implication that such dogs must be a mix of defined breeds may stem from an inverted understanding of the origins of dog breeds. Pure breeds have been, for the most part, artificially created from random-bred populations by human selective breeding with the purpose of enhancing desired physical, behavioral, or temperamental characteristics. Dogs that are not purebred are not necessarily a mix of such defined breeds. Therefore, among experts and fans of such dogs, "Mongrel" is still the preferred term. |
| Breed Group: | Unspecified |
Mutt Puppy for Sale near KENNESAW, GA, USA. ADN-391828. Beautiful markings beautiful pup
Beautiful markings beautiful pup
$155*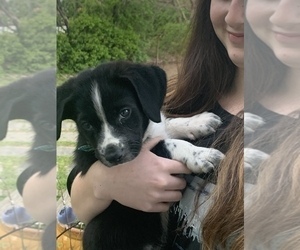 Very sweet pup, offers a lot of good behavior. Knows sit, lay down, high five, roll over and is crate trained. He is very intelligent, loves fetch and gets along well with other...
Remmy
Mutt
Mutt Litter of Puppies for Sale near ALBERTVILLE, AL, USA. ADN-373793. Mix Puppies
$200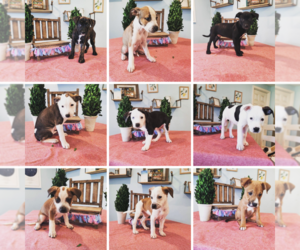 9 Pitbull-Heeler-GSP puppies. 5 Girls. 4 Boys. Will have de-wormer, Distemper, & Bordetella before going to FURever home. **Availability date subject to change.**
Litter of 9
Mutt
Quick Breed Selector
0 - not important, 1 - smallest, 10 - largest