Pure Breeds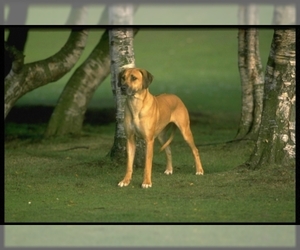 Rhodesian Ridgeback
A.K.A. :
African lion dog, African lion hound
Quick Breed Selector
Quick navigation
Rhodesian Ridgeback
A.K.A. :African lion dog, African lion hound
| | |
| --- | --- |
| Overview: | The Rhodesian Ridgeback is great as a hunting dog, a watch dog, or a family pet. They love children and are always eager to please their owner. |
| Breed Group: | Hound |
| Weight (lbs): | male: 85, female: 70 |
| Height (in): | male: 25-27; female: 24-26 |
| Colors: | Light wheaten to red wheaten; nose can be black, brown or liver. |
| Coat: | Short and dense, sleek and glossy in appearance. The hallmark of the breed is the ridge on the back which is formed by the hair growing in the oppositedirection to the rest of th coat, it should be tapering and symmetrical. |
| Character: | Rhodesian Ridgebacks are intelligent and independent. Known for their bravery, they are cautious around strangers and make great watch dogs. |
| Temperament: | This breed requires early socialization with cats and other dogs to prevent later problems. They do well with children, as long as the kids are not too rough. These dogs are reserved around strangers. |
| Care: | The Rhodesian Ridgeback requires occasional brushing. Use a rubber brush to remove dead hairs during times of shedding. |
| Training: | This breed can be somewhat stubborn, so requires a firm and consistent training approach. |
| Activity: | The Rhodesian Ridgeback has a lot of stamina, so he needs a good deal of exercise. Regular long walks are required along with some other outdoor activities. |
| Health Issue: | This breed is hardy and able to withstand dramatic changes in temperature. They may be susceptible to heart disease, dermoid sinus, and cysts. |
| Life Expectancy: | 10-12 |
Extremely charismatic, big beautiful Rhodesian Ridgeback puppies coming very soon. Our main photo on here is Siggy. Siggy will be bred by SirGood in December and her litter should...
NEW Rhodesian Ridgeback Litter Coming On 02/09/2021
Breeds: Rhodesian Ridgeback
USA HESPERIA, CA, USA
Similar Dog Breeds for Rhodesian Ridgeback
Quick Breed Selector
0 - not important, 1 - smallest, 10 - largest