English Shepherd Verified Dog Breeders near Frederick, Maryland, USA, Page 1 (10 per page)
/
English Shepherd Dog Breeder near FREDERICK, MD, USA. SUBS-334804. English Shepherds of Sycamore Spring
Member since: 07/03/2018
English Shepherds of Sycamore Spring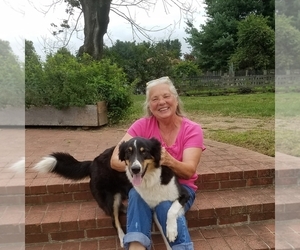 Breeds: English Shepherd
Distance: Aprox. 0.4 mi from Frederick
Stud service available
Description:
At Sycamore Spring Farm we are passionate about preserving what we consider a national treasure-the hunting, herding, guarding, babysitting - English Shepherd-a true American...
View more...
English Shepherd Dog Breeder near FREDERICKSBRG, PA, USA. SUBS-99173. Buzzin Acres
Member since: 11/08/2017
Buzzin Acres
Breeds: English Shepherd
Distance: Aprox. 88.7 mi from Frederick
Description:
We have a small farm where we raise a few sheep, cows, poultry, along with our English shepherds. Bowser-the Father and Candy-the mother like to help us out when we are working...
View more...
Similar Dog Breeds for English Shepherd