DAWSON - GERMAN SHEPHERD DOG / SIBERIAN HUSKY (LONG COAT) DOG FOR ADOPTION
Pacolet, SC, USA
Email Owner
Quick navigation
DAWSON - GERMAN SHEPHERD DOG / SIBERIAN HUSKY (LONG COAT) DOG FOR ADOPTION
German Shepherd Dog Dogs For Adoption in Pacolet, SC, USA
For Adoption
Nickname:

Dawson

Breed

Gender

Male

Age

Adult

Location

Pacolet, SC, 29651 USAUSA
Description
Posted Breed: German Shepherd Dog / Siberian Husky (long coat). Thank you for your interest in dog who needs a new home. Adoption can be one of the most fulfilling experiences in your life and especially in the life of your new canine companion. A note to those looking at CPR. We have no perfect dogs - but many of our dogs have proven to be perfect for a certain someone. Our job is to find those someone's. Our most successful adopters come to CPR not because they want a dog. They come to us because they want to give a dog a home. We urge all of our potential adopters not to fall in love with a picture. While we like to know what you like in looks, a dog is more than a pretty face. Our goal is to match you with the best possible pet for you and your home. We want to create furever families. Our descriptions contain all that we know about this dog today. We'll update as more information is known. Are you looking to adopt within the next 30 days? If so please visit our webpage at .carolinapoodlerescue and complete the application. You'll find it in the menu on the left hand side. You'll also find a total listing of all our dogs available. Just browsing but interested in poodles and poodle mixes? Please drop a note to applicationscarolinapoodlerescue with your name, address and phone # and email. We'll add you to our mailing list. thanks the CPR Adoption team Date into Rescue: 7/8/18 Reason for being in rescue: Stray, found at CPR employee's house Foster location: Foster Home in Pacolet, SC Special Needs? This dog was lightly heartworm positive when he came in. We had him on a monthly preventative and is now heartworm free!!! Weight: Estimated 52 lbs Height: est 24" at the shoulder Spayed/Neutered: Yes Adoption Fee: $200 Fence needed? Yes, Dawson is a young, large breed dog and needs room to play. He also needs the security of a fence that he can not escape. Dawson likes to go on walk about all by himself and has to be watched. Dawson can open gates with his nose. You have to stay with him in the yard and your gates must have clips on them to keep this smart guy from taking himself out of the yard. He does not climb or dig out of his own yard. He is in a a 5' high farm fence and this happily contains him. What kind of home would be best for me? Dawson has a puppy personality and needs basic training. He would do best in a home with no small animals. He is living with two toy poodles and doing well but his foster mom is very dog savvy and knows how to keep his energy channeled in the right direction. He would love a larger dog to play with. Oreo S'moreo, also up for adoption, is his BFF in the play yards. Dawson is used to a lot of human interaction and needs someone who is not going to leave him in a crate more than 2 hours at a time. He gets bored easily and he will figure out how to escape. A best case scenario would a home school family with children over 8 years old or a recent retiree who is looking for a best buddy and has lots of time to spend. What is my personality like? Dawson is believed to be a Shepherd/Husky mix and is only estimated to be around 1 year old. Dawson is a happy go lucky guy always looking for someone to give hugs to. He doesn't think twice about sticking his paw up for hand shakes or jumping on you for nose kisses. He is problem solving smart, and all that intelligence needs to be coached and directed. He needs a job and he will thrive. He's not a couch potato kind of guy. Dawson has a very high energy level. His foster mom's fondest wish for him is someone retired from police work or military work with canines and that has had much dog training experience and wants to keep their skills sharp. Dawson would absolutely thrive with someone who wanted to try many of the canine activities available today. His foster mom thinks he would thrive at nosework. She also thinks he would enjoy lure coursing and barn hunting and maybe even weight pulling. He has a strong prey drive and a nose that knows all. He could also do great with a fun, active family to play with or with an outdoors kind of person who runs, hikes, and camps. We could see Dawson hiking the Appalachian Trail and being Mr. Adventure (but always on leash). So far he has gotten along with the dogs that he has came into contact with, but is too rough and curious for very small animals. He walks well on a leash using a front lead harness. With a regular harness he would pull. He loves to ride in a car and never gets car sick. He is used to travelling in a seat belt harness. We know this guy will move his way into a families heart very quickly, given the chance! How do I act when I first meet new people? He loves strangers, he loves them so much he even walked up and introduced himself to our groomer when he was a stray. That got him a foster home. Other tips and tidbits: Estimated Birthdate: 7/8/2017. Dawson is in a foster home with our groomer. She is teaching him the joys of sleeping in the bed, riding in the car and going to Petco to shop. He has learned sit, shake and down. He is reacting very well to all this teaching and mastering his new skills. Dawson comes to the farm each day that his foster mom works to socialize with other dogs and romp and play in our fields. He is getting a well rounded education on how to be a great pet. Dawson would be destructive if left unsupervised in the house. Destructive fun includes getting into the trash, he stares hard at the guinea pigs that he can't reach. He will counter surf. Latest theft was a bag of taco shells when his foster mom was grocery shopping. He needs a strong crate to hold him. He's happy in a plastic heavy duty vari kennel with a chewy while you are out grocery shopping or otherwise engaged. House trained? Dawson is in a foster home and he has never had an accident in the house. He is supervised at all times when he is in the house. His foster mom says he does not offer to life his leg and mark ever. He sleeps sounding but if his family gets up to go potty in the middle of the night, he's a good boy and goes outside, too. Dogs can be house trained if they are in the right environment and are allowed to follow a schedule as long as a physical reason doesn't keep them from being trained. A dog house trained in my home may not be in yours. We will help you teach your new dog this necessary skill and based on your schedule. Please note - we do not ship dogs. If you are interested in adopting, please take a look at the distance between the foster home location and your location and make sure you are willing to make that trip. Most of our dogs are at our farm in Pacolet, South Carolina. To apply, please visit our webpage at .carolinapoodlerescue and visit the tab on the left that directions you to the online application. Please note that when screening applications, we look at the entire home and then make suggestions based on what would be a good fit for your home. You are not being screened for a specific dog although we are looking to see what type of dog interests you - poodles or non poodles, color, age, etc. Others here may be a better fit for you. It is very difficult to get to know a living animal from a picture and a short description. Since we are constantly getting in new dogs, this may be a dog not in our listings yet. We want you to be very happy with your new companion and will make suggestions based on what you tell us about you. Thank you for considering CPR.
German Shepherd Dog Dogs For Adoption in Pacolet, SC, USA
Physical Attributes

| | |
| --- | --- |
| Eye Color: | Black |
| Ear Type: | Droopy |
| Tail Type: | Long |
| Coat Length: | Long |
| Grooming Needs: | Moderate |
| Likes to Vocalize: | Quiet |
| Shedding Amount: | Moderate |

Behavioral Characteristics

OK with Dogs:
No
OK with Cats:
Yes
Energy Level:
Moderate
Activity Level:
Moderately Active
Exercise Needs:
Moderate
Fence Required:
6 foot
Obedience Training:
Has Basic Training
Other:

Not Good With Small Dogs
Yard Required
Leash Trained
Crate Trained
Housetrained
Good in a Car
Likes to Play with Toys

Personality

Personality Characteristics

Playful
Affectionate
Eager to Please
Goofy

Additional Information
Organization name

Carolina Poodle Rescue

Location:

Pacolet, South Carolina, 29651 USAUSA
Breed overview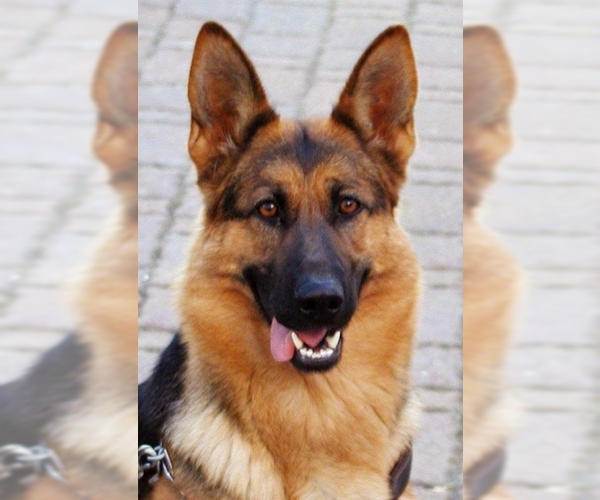 German Shepherd Dog
Overview:
The German Shepherd is unmatched in character and courage. These dogs make great companions because they are loyal and have the heightened senses of an excellent watch dog. At the same time, they can be gentle and playful companions for children.
See more...
Adoption Tips
Puppyfinder.com strongly recommends reading these adoption tips before adopting a puppy.
Read it...