German Shorthaired Pointer Verified Dog Breeders near Omaha, Nebraska, USA, Page 1 (10 per page)
/
German Shorthaired Pointer Dog Breeder near FARRAR, IA, USA. SUBS-130285. Daily Limit Pointers
Member since: 05/09/2019
Daily Limit Pointers
Breeds: German Shorthaired Pointer
USA FARRAR, IA, USA
Distance: Aprox. 139.0 mi from Omaha
Description:
Breeder of AKC registered German Shorthaired Pointers gaurenteed to be some of the finest bird dogs available in Iowa. Parents are wonderful family companions, that never...
View more...
German Shorthaired Pointer Dog Breeder near PERRY, KS, USA. SUBS-91022. Kaw Valley Pointers
Member since: 08/17/2018
Kaw Valley Pointers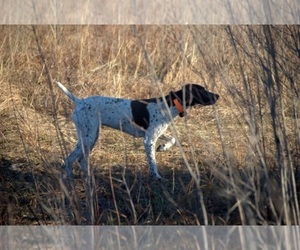 Breeds: German Shorthaired Pointer
USA PERRY, KS, USA
Distance: Aprox. 153.9 mi from Omaha
Description:
Puppies whelped 01/18/2019! $800/female (7) - $750/male (3). Our pointers are developed for families to have a loving and playful companion, while at the same time, producing...
View more...
Similar Dog Breeds for German Shorthaired Pointer