Pomsky Puppies for Sale near Lancaster, Pennsylvania, USA, Page 1 (10 per page)
Pomsky Puppy for Sale near Pennsylvania, LANCASTER, USA. ADN-600836. Pomsky
Pomsky
Date listed: 05/09/2023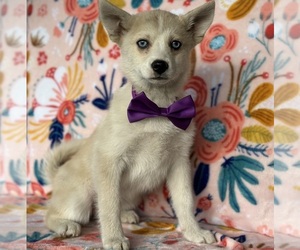 Winnie
Breed:

Price:

$151

Nickname:

Winnie

Gender:

Female

Age:

15 Weeks Old

Location:

Distance:

Aprox. 0.3 mi from Lancaster
Beautiful puppy, family raised, come today to meet in person, delivery is also an option, additional fee....great with kids and other pets, can't get any cuter than this!
Pomsky Litter of Puppies for Sale near Pennsylvania, BUTLER, USA. ADN-606511. F2 Pomskies
F2 Pomskies
Date listed: 05/19/2023
Litter of 3
Breed:

Price:

$1,500

Nickname:

Litter of 3

Gender:

Male(s) and Female(s)

Age:

6 Weeks Old

Location:

USA BUTLER, PA, USA

Distance:

Aprox. 197.3 mi from Lancaster
Adorable Pomsky puppies are soon ready to find their forever home. There are 3 boys and 1 girl, with one boy reserved. Parents are F1 and F2 . They have been Embark DNA tested for...
Pomsky Puppy for Sale near Minnesota, BURNS TOWNSHIP, USA. ADN-599401. Toy Pomsky
Toy Pomsky
Date listed: 05/06/2023
Bluebirds Saku
Breed:

Price:

$3,500

Nickname:

Bluebirds Saku

Gender:

Female

Age:

7 Weeks Old

Location:
Sakura is teeny tiny and oh so petite! She melts my heart with her big blue eyes. Be sure and see her full video and siblings on our website bluebirdhouseofpomsky
Pomsky Litter of Puppies for Sale near Massachusetts, DRACUT, USA. ADN-579984. F2 Pomsky
F2 Pomsky
Date listed: 03/30/2023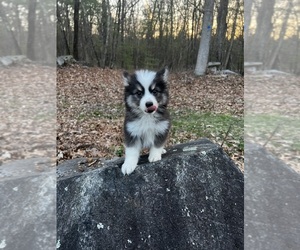 Litter of 4
Breed:

Price:

$2,000*

Nickname:

Litter of 4

Gender:

Male(s) and Female(s)

Age:

14 Weeks Old

Location:

USA DRACUT, MA, USA
These adorable little furbies are F2 pomskies
Similar Dog Breeds for Pomsky
Browse thru Pomsky Puppies for Sale near Lancaster, Pennsylvania, USA area listings on PuppyFinder.com to find your perfect puppy. If you are unable to find your Pomsky puppy in our Puppy for Sale or Dog for Sale sections, please consider looking thru thousands of Pomsky Dogs for Adoption. Also, be sure to check the Pomsky Dog Breeder listings in our Dog Breeder Directory, which feature upcoming dog litter announcements and current puppies for sale for that dog breeder. And don't forget the PuppySpin tool, which is another fun and fast way to search for Pomsky Puppies for Sale near Lancaster, Pennsylvania, USA area and Pomsky Dogs for Adoption near Lancaster, Pennsylvania, USA area. - also known as: Siberian Husky Pomeranian Mix