Poodle (Standard) Puppies for Sale near Gower, Missouri, USA, Page 1 (10 per page)
Poodle (Standard) Puppy for Sale near Missouri, JOPLIN, USA. ADN-238238. AKC Red Standard Poodle
AKC Red Standard Poodle
Date listed: 01/23/2021
Litter of 10
Breed:

Price:

$1,400*

Nickname:

Litter of 10

Gender:

Male(s) and Female(s)

Age:

Under 1 Week Old

Location:

USA JOPLIN, MO, USA

Distance:

Aprox. 174.6 mi from Gower
Litter of 10 pups, 5 males and 5 females, whelped on 1/21/21. These pups, and adult dogs, look like stuffed animals, are ultra soft and cuddly, do not shed, and are hypoallergic...
Poodle (Standard) Puppy for Sale near Missouri, JOPLIN, USA. ADN-234302. RED AKC Champion Standard Poodles
RED AKC Champion Standard Poodles
Date listed: 12/31/2020
Litter of 11
Breed:

Price:

$2,500

Nickname:

Litter of 11

Gender:

Male(s) and Female(s)

Age:

6 Weeks Old

Location:

USA JOPLIN, MO, USA

Distance:

Aprox. 174.6 mi from Gower
Website: Eveningstarspoodles. Mother - Cecilia's Isabeau (aka 'Izzy') has a wonderful loving temperament & cuddle buddy. Izzy has her OFA CHIC #151266 along with 4 additional...
Poodle (Standard) Puppy for Sale near California, MENLO PARK, USA. ADN-227375. Ready Dec 2020 for Christmas
Ready Dec 2020 for Christmas
Date listed: 11/23/2020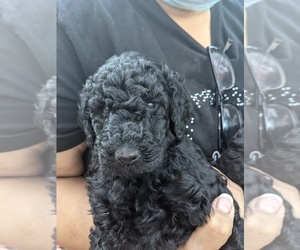 Litter of 7
Breed:

Price:

$3,500

Nickname:

Litter of 7

Gender:

Male(s) and Female(s)

Age:

15 Weeks Old

Location:
Born Oct 12, 20201 black female beautiful boxy smart
Breed Mixes of Poodle (Standard)
Similar Dog Breeds for Poodle (Standard)
Browse thru Poodle (Standard) Puppies for Sale near Gower, Missouri, USA area listings on PuppyFinder.com to find your perfect puppy. If you are unable to find your Poodle (Standard) puppy in our Puppy for Sale or Dog for Sale sections, please consider looking thru thousands of Poodle (Standard) Dogs for Adoption. Also, be sure to check the Poodle (Standard) Dog Breeder listings in our Dog Breeder Directory, which feature upcoming dog litter announcements and current puppies for sale for that dog breeder. And don't forget the PuppySpin tool, which is another fun and fast way to search for Poodle (Standard) Puppies for Sale near Gower, Missouri, USA area and Poodle (Standard) Dogs for Adoption near Gower, Missouri, USA area. - also known as: Pudle, Caniche, Barbone