Poodle (Toy) Puppies for Sale near Asheville, North Carolina, USA, Page 1 (10 per page)
Poodle (Toy) Litter of Puppies for Sale near North Carolina, FRIENDSHIP, USA. ADN-235054. Toy poodles teacup
Toy poodles teacup
Date listed: 01/06/2021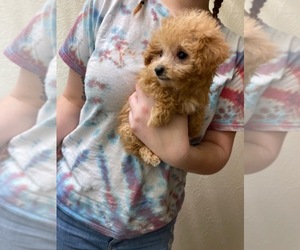 Litter of 3
Breed:

Price:

$2,400

Nickname:

Litter of 3

Gender:

Male(s) and Female(s)

Age:

10 Weeks Old

Location:

Distance:

Aprox. 156.9 mi from Asheville
Poodle (Toy) Puppy for Sale near North Carolina, GREENSBORO, USA. ADN-236352. Toy poodle
Toy poodle
Date listed: 01/13/2021
Arthur
Breed:

Price:

$1,800

Nickname:

Arthur

Gender:

Male

Age:

3 Weeks Old

Location:

Distance:

Aprox. 156.9 mi from Asheville
We are a litter of 4 with only 3 boys available we came to this world on 01/04/21 our parents are DNA tested and clear,we are raise in a lovely home where we are been monitored...
Poodle (Toy) Puppy for Sale near Connecticut, BRIDGEPORT, USA. ADN-234478. Toy poodle litter
Toy poodle litter
Date listed: 01/02/2021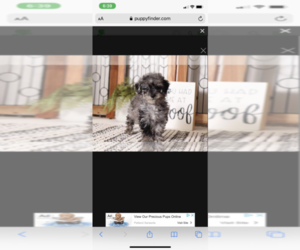 Litter of 5
Breed:

Price:

$2,500*

Nickname:

Litter of 5

Gender:

Male

Age:

12 Weeks Old

Location:
I have a litter of toy poodles all akc registered some are merles some are standard color all crate trained and potty trained wonderful addition to any family been around kids all...
Breed Mixes of Poodle (Toy)
Similar Dog Breeds for Poodle (Toy)
Browse thru Poodle (Toy) Puppies for Sale near Asheville, North Carolina, USA area listings on PuppyFinder.com to find your perfect puppy. If you are unable to find your Poodle (Toy) puppy in our Puppy for Sale or Dog for Sale sections, please consider looking thru thousands of Poodle (Toy) Dogs for Adoption. Also, be sure to check the Poodle (Toy) Dog Breeder listings in our Dog Breeder Directory, which feature upcoming dog litter announcements and current puppies for sale for that dog breeder. And don't forget the PuppySpin tool, which is another fun and fast way to search for Poodle (Toy) Puppies for Sale near Asheville, North Carolina, USA area and Poodle (Toy) Dogs for Adoption near Asheville, North Carolina, USA area. - also known as: Toy Poodle