Puggle Verified Dog Breeders near Warsaw, New York, USA, Page 1 (10 per page)
Puggle Dog Breeder near WARSAW, NY, USA. SUBS-62656. Beautiful Puggles
Member since: 01/24/2018
Beautiful Puggles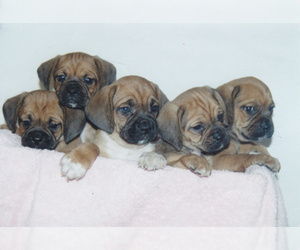 Breeds: Puggle
USA WARSAW, NY, USA
Distance: Aprox. 0.4 mi from Warsaw
Description:
We breed first generation Puggles. Dad an AKC Pug, mom an AKC Beagle. We have bred Puggles since 2006, but have bred AKC Beagles for almost 50 years. All our litters are raised...
View more...
Puggle Dog Breeder near NEWMANSTOWN, PA, USA. SUBS-187803. Mark W Boll
Member since: 02/09/2020
Mark W Boll
Breeds: Puggle (+1)
Distance: Aprox. 192.7 mi from Warsaw
Description:
home/farm raised puppies, from rural Lebanon County, PA
View more...
Similar Dog Breeds for Puggle